Dans une forêt
Le soir du feu de joie, les étudiants de l'université font la fête. À quelques mètres de là, quatre étudiants s'attèlent à autre chose : Connor, Laurel et Michaela sont en train de se disputer lorsque Wes arrive avec l'arme du crime. Ils parlent alors de meurtre et se disputent pour savoir s'ils doivent aller récupérer le corps ou non. Ils semblent tous en état de choc et continuent de se crier dessus jusqu'à ce que Wes ait l'idée de tirer à pile ou face.
Université Middleton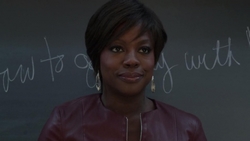 Trois mois plus tôt : c'est septembre et c'est la rentrée à la faculté de droit de Middleton. Des affiches annonçant la disparition de Lila Stangard, étudiante à la faculté, tapissent les murs tandis que Wes arrive pour la première fois à l'université. Dans l'amphithéâtre, plusieurs étudiants racontent leur été et Wes prend place au premier rang, à côté de Michaela qui lui annonce être fiancée puisqu'elle pense qu'il la drague. Elle lui dit qu'il a une place attribuée et alors qu'il va voir la feuille, Connor lui dit qu'il n'a aucune idée dans quoi il s'est engagé.
Le Professeure Annalise Keating arrive alors dans la salle et leur annonce que son cours s'appelle "How To Get Away With Murder". Elle ne leur apprendra pas des théories sur le droit mais plutôt comment le mettre en pratique et elles interrogent les étudiants sur le premier cas. Michaela, Asher et Connor répondent bien mais Wes ne savait pas qu'il fallait préparer le cas avant de venir et ne sait pas répondre aux questions. Laurel intervient et donne la bonne réponse, ce qu'Annalise n'apprécie, elle n'aime pas les gens qui se vantent.
Maison d'Annalise
Tous les étudiants sont réunis pour écouter le témoignage de l'accusée : Gina Sadowski, l'assistante d'Arthur Kaufman est accusée de tentative de meurtre, il est révélé qu'elle était également la maîtresse de la victime. Elle explique qu'elle aimait sincèrement Arthur et qu'elle n'aurait jamais voulu lui faire de mal.
Annalise annonce que le procès commence dans deux jours et qu'elle veut que demain chaque étudiant présente une ligne de défense pour le procès : elle annonce à Wes qu'il passera en dernier et que c'est une place compliquée puisqu'aucun étudiant ne pourras répéter une chose déjà dite. Elle insiste aussi sur le fait que chaque année, elle engage quatre étudiants pour travailler à ses côtés et ceux de Frank et Bonnie, ses collègues ; ce devoir l'aidera à choisir lesquels. De plus, le gagnant recevra un trophée qui permet d'échapper à un examen si l'étudiant qu'il l'a le souhaite.
Appartement de Wes
Wes fait des recherches pour le cours suivant d'Annalise lorsque sa voisine met de la musique à fond. Il va la voir mais elle lui révèle que son prédécesseur était aussi étudiant en droit et qu'elle supportait ses parties de jambes en l'air et ses crises de nerfs, il devra donc faire avec la musique.
De retour dans sa chambre, il se rend compte que des traces de griffures apparaissent au dessus du lit, Wes trouve ça étrange.
Maison d'Annalise
Trois mois plus tard, Wes, Connor, Michaela et Laurel se retrouvent chez leur professeure pour récupérer le corps. Connor et Wes l'enveloppent dans un tapis tandis que Michaela prétend ne pas être là et que Laurel nettoie le trophée. Les trois étudiants n'arrivent pas à porter le corps, Michaela accepte alors de les aider mais alors qu'ils sortent de la maison, un officier vient les interroger sur les voitures garées devant la maison.
Connor explique que c'est la sienne et l'officier lui dit qu'elle bloque le passage. Il remarque aussi que c'est la maison d'Annalise Keating et devient suspicieux en voyant le tapis. Michaela invente une excuse et l'officier décide de les laisse partir en leur conseillant de faire attention.
Université Middleton
Chaque étudiant présente sa défense : ceux qui passent à l'étape suivante se rasseoient tandis que les autres vont au fonde l'amphi. Wes barre les idées au fur et à mesure qu'elles sont énoncées et finit par plaider la légitime défense, ce qui fait sourire les autres élèves. Wes lui-même n'y croit pas mais Annalise lui dit de se rasseaoir.
Elle présente alors à son tour sa façon de procéder : discréditer le témoin, introduire un nouveau suspect et enterrer les preuves. L'avocate félicite ceux qui iront au tribunal avec elle le lendemain matin.
Tribunal
L'heure du procès a sonné et Michaela arrive en retard avant de révéler une information importante à Annalise : le témoin qui assure avoir vu la pilule jaune qui a été utilisée pour la tentative de meurtre est en fait daltonienne, elle ne peut pas affirmer que ce n'était pas ses anxyolitiques.
Michaela raconte comment elle a réussi à découvrir cela et Annalise est impressionnée mais pas assez pour remettre le trophée.
Appartement de Wes
La voisine de Wes regarde les informations parlant des fouilles de Lila Stangard tandis que dans son appartement, Wes étudie le cas. Il tombe sur quelques chose et s'empresse d'aller chez Annalise.
Maison d'Annalise
Wes va dans le bureau d'Annalise et la surprend dans un rapport sexuel, l'homme lui crie de sortir. Wes s'exécute tandis qu'Annalise le suit, lui demandant ce qu'il veut. Wes s'excuse et finit par parler d'un "verdict direct" qui peut être demandé lorsqu'une des deux parties n'a pas assez de preuves. Annalise pense que c'est une mauvaise idée et le met dehors.
À une station essence
Trois mois plus tard, Connor chante "Jingle Bells" ce qui semble énerver Michaela et Laurel. Le corps est allongé dans la voiture et Wes revient avec plusieurs fournitures puisque c'était moins suspect d'acheter plusieurs choses plutôt que juste des allumettes.
Dans un bar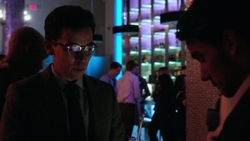 Retour au présent avec Connor qui tente de draguer une informaticien, Oliver, qui se révèle être un employé de l'agence de pub dans laquelle travaillait l'accusé du procès. Oliver refuse de parler du cas et s'étonne que Connor s'intéresse à lui mais finit par lui raconter des choses en le voyant draguer d'autres hommes.
Au tribunal
Connor remet des e-mails à Annalise mais lui dit qu'ils n'ont pas été obtenus de façon légale puisque dans les flashback, Connor couche avec Oliver. Annalise lui avoue alors qu'ils vont rendre ça légal et les remet à Bonnie.
Suite aux e-mails récupérés par Connor, Annalise base sa défense sur l'accusion de l'associée d'Arthur qui était jaloux qu'il couche avec son assistante. Elle réussit à mettre le doute dans le jury et à la sortie du tribunal, Connor ne révèle pas ses sources.
Laurel se rend aux toilettes et aperçoit l'accusée et la femme de la victime se donner une accolade alors qu'elles sont sensées se détester. Laurel comprend alors que leur accusée est réellement coupable et de mèche avec la femme de la victime.
Appartement de Wes
Wes rentre chez lui lorsqu'il entend une dispute éclater dans l'appartement de Rebecca, sa voisine. Le jeune homme part de l'appartement et tandis que Wes veut aider Rebecca, celle-ci lui crie dessus et ferme la porte.
Université Middleton
Un gala de bienvenue est organisé pour les premières années et Wes rejoint Connor, Michaela et Asher qui sont réunis autour de Sam Keating, le mari d'Annalise. Wes est stupéfait de voir que ce n'est pas le même homme avec lequel elle l'a surprise l'autre jour mais dans un regard Annalise lui fait comprendre de ne rien dire.
Dans la forêt
Trois mois plus tard, les étudiants reviennent dans la forêt avec le corps. Ils se cachent lorsqu'ils entendent deux jeunes arriver pour coucher ensemble mais le téléphone de Laurel sonne et les deux jeunes s'en vont. Michaela est alors surprise de voir que c'était Frank qui appelait Laurel et la photo était Frank torse nu.
Maison d'Annalise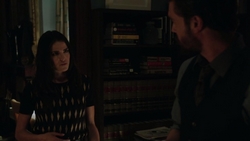 Dans le présent, Laurel raconte à Frank ce qu'elle a vu puisqu'elle pense que la femme et la maîtresse se sont associées pour tuer le mari. Elle réalise alors que Frank s'en doutait déjà et est énervée de voir qu'ils défendent une personne coupable et que personne n'a l'air de s'en soucier. Il lui rétorque alors qu'elle est trop idéaliste et qu'elle est le genre de fille à faire du droit pour aider les moins fortunés avant de devenir une femme au foyer. Laurel lui répond alors qu'il est un connard misogyne et s'en va. Bonnie assiste à la scène et prévient Frank d'arrêter de coucher avec les étudiantes.
Université Middleton
Wes se rend aux toilettes et se retrouve face à Annalise. Il promet de ne rien dire mais Annalise s'excuse et comme à pleurer. Elle lui confie qu'elle et Sam tentent d'avoir un enfant depuis des années et que cela joue beaucoup sur leur mariage. Elle le remercie de ne rien dire tout en lui caressant les bras et le torse. Wes s'en va, Annalise essuie ses larmes et se recoiffe.
Maison d'Annalise
Frank et Bonnie travaillent lorsque Annalise et Sam rentrent de la soirée. Bonnie salue Sam tout en demandant s'il a obtenu le département de psychologie à Yale où il était en déplacement professionnel. Il monte se coucher et embrasse Annalise, ce qui a l'air d'énerver Bonnie.
Appartement de Wes
Dans sa chambre, Wes s'aperçoit qu'il y a des traces de morsures sur le bord de son lit. Il entend du bruit devant sa porte et voit une bouteille d'alcool avec un mot de la part de Rebecca. Il l'interpelle et elle s'excuse pour les deux nuits précédentes de ne pas avoir été très sympa. Wes lui propose alors d'ouvrir la bouteille mais elle refuse.
Au tribunal
L'accusation montre une vidéo de l'accusée en train d'acheter de l'aspirine, ce qui a servi dans la tentative de meurtre. Dans leur bureau, Annalise crie sur l'accusée : elle n'avait qu'une chose à faire, leur dire les preuves à enterrer et elle ne l'a pas fait. Elle lui dit de partir et Annalise se met à disputer Frank et Bonnie qui d'après elle n'ont pas fait leur travail.
Plus tard, Annalise appelle à la barre le premier témoin de l'affaire, Nate Lahey qui n'est autre que son amant. Il est inspecteur de police et se sert de lui pour démolir le témoignage de l'officier parlant de la vidéo et remporte le procès.
Annalise donne ensuite une conférence de presse dans laquelle elle annonce avoir remporté le procès et Laurel aperçoit encore une fois une complicité entre l'accusé et la femme de la victime, elle semble écoeurée d'avoir aider à libérer une personne innoncente.
Université Middleton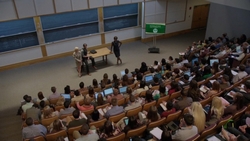 Annalise s'apprête à annoncer les noms des étudiants qui vont venir travailler à ses côtés en plus de ses études : Connor Walsh, qui remporte aussi le trophée, Michaela Pratt, Asher Millstone, Laurel Castillo et enfin un dernier dû à l'augmentation de travail dans le cabinet : Wes Gibbins.
À l'extérieur, Wes annonce à Annalise qu'il ne veut pas du poste puisqu'il pense l'avoir eu seulement parce qu'il est au courant pour lui et Nate Lahey. Elle lui assure que non : elle lui a proposé le poste car elle pense qu'il est capable mais que si ce n'est pas le cas, il peut partir.
Dans une sororité
Un technicien apparaît à la porte pour réparer un problème d'eau et alors qu'il se rend à la citerne pour vérifier, il aperçoit le corps d'une femme.
Appartement de Rebecca
Griffin, le petit-ami de la victime Lila Stangard, arrive chez Rebecca en furie et allume la télé pour montrer la nouvelle à Rebecca qui semble triste et surprise.
Maison d'Annalise
Sam découvre lui aussi aux infos la mort de Lila Stangard et avoue à sa femme qu'elle était une de ses étudiantes, il plaint les parents. Annalise parie que c'est son petit-ami qui a fait ça, Sam lui répond qu'ils devront attendre pour le savoir.
Dans la forêt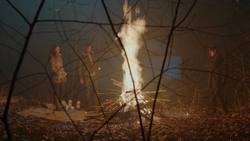 Trois mois plus tard, Connor, Michaela, Laurel et Wes sont réunis autour du corps : ils mettent des branches dessus et s'apprêtent à le brûler mais Wes veut être sûr qu'ils sont tous d'accord. Connor et Laurel répondent que oui mais Michaela se fait attendre. Elle finit par confesser que c'est le seul moyen de détruire l'ADN. Alors que Wes allume l'allumette, le cadavre n'est autre que celui de Sam Keating, le mari d'Annalise. Wes lance l'allumette et le corps prend feu.
Fin de l'épisode.